---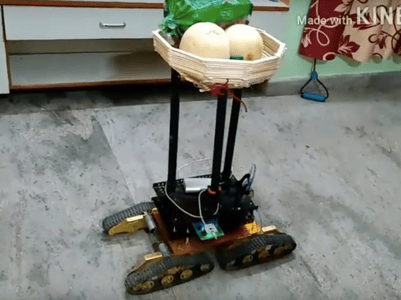 This project was made by Surya vidyadhar Donthamsetti as a part of the "Fight COVID-19 using IoT and ML" Challenge. Here is a video made by Surya vidyadhar Donthamsetti showing how the project works. You can build the project yourself by going through the rest of the blog.
Respiratory viruses like coronavirus disease (COVID-19) spread when mucus or droplets containing the virus get into your body through your eyes, nose or throat. With the COVID-19 pandamic sweeping across the globe, the World Health Organisation has prescribed social distancing as an effective way to reduce the spread of the disease.
Surya has taken this a step further by building the Bolt Quratine survival robot, that lets him get anything he needs without leaving the safety of his home. While the system that Surya has made is impressive, it may be a little time consuming to replicate as it is. You can instead click here to go through our documentation on how to build an Internet controlled robot, and use it to build your own quarantine survival robot.
Conclusion
With the Bolt IoT platform you can quickly build your own quarantine survival robot, and drastically reduce the possibility of spreading the coronavirus.
Want to build more such IoT and ML projects? Want to learn IoT and ML from basics?
Check out the Bolt IoT and ML training. This online video training is excellent for those who want to start with IoT and ML because it teaches you to build projects from the basics. Click on the button below to know more about the training.